Adorable teacher-blogger Tammy from
First Grade at Klinger Cafe
tagged me (darn...I was running as fast as I could..) This is my first time being Blog Tagged ..so here it goes: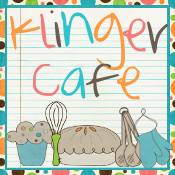 1.
You must post the rules. (check!)

2.
Answer the 10 questions the tagger posted for you. (okie-dokie!)

3.
Create 10 questions of your own to ask the people you are going to tag. (hmmm..I just have ONE:

Does anyone know a teacher representative for Thirty-One Bags?)
4.
Tag 10 people and link them with your post. Let them know they've been tagged (Hard one..so many have been tagged and answered questions already. SO anyone reading this, can considered themselves tagged and please let me know what bag I should buy from 31s)
Tammy asked:
1.
Do you do writers workshop in your classroom?
- No, but I would love to do a writer's workshop. Maybe next year.
2.
How do you feel about teaching spelling?
- I think spelling should be taught to learn phonic patterns, not to memorize words.
3.
Who would you most like to see at a conference or workshop?
- STEVE SPANGLER! I went to his workshop 10 years ago and it was amazing! From 6th grade to Kindergarten, I've used his products and experiments. He's amazing!
4.
What kind of grades do you take (A, B, C, D, F etc)
- My district is on the 4, 3, 2, 1 system (I like the A, B, C, D, F better)
5.
How many days/weeks do you test?
- Luckily, I don't have to worry about state testing, but the District has periodic Math Assessments (4x year), Writing (2x year), and then there's the Math chapter test, Treasures Unit test (every 3 week).
6.
What is your favorite way to spend your summer vacation?
- Eating at new places, hunting for food trucks, (then hiking or jogging to run off the food I ate) and I LOVE to spend time w
ith my pug baby (pathetic, I know, but she's getting older and I want to spend as much time with her as possible).
7.
Do you have a bestest teacher buddy?
- Sadly no, I wish I had a bestest teacher buddy, but I do have some awesome teacher buddies.
8.
What should I get my 22 year old son for graduating college, and 18 year old daughter for graduating high school two weeks later? (ha ha this one is trick but very important!)
- For the son - a cell phone plan that includes unlimited minutes (so you can call him ALL the time); for the daughter - a mother and daughter vacation (so you two can spend time together!)
9.
Are you a mountain, plains, or ocean person?
- Mountains with lots of shade (the sun does not like me)
10.
Do you ever feel like you're talking to air when you are teaching?
- hello? hello? anyone there?